Hi everyone,
It's that ''lot's of sales'' time of the year again !! And for this occasion, i did a grabbag with
4 products in it.. I could show you all what's in the bag, but that would ruin the surprice a bit..
but I made a small preview of what's inside.. as you can see here below.
* 1 full kit called ''Happy and Carefree'' * 8 Matching journaling cards
* 5 elegant foliage quickmasks * 1 full template album ''A story captured vol2''
with 15 templates and 5 papers !
available at
And with iDSD there are also some fun happenings. Check out the forums at Scrapflower and Mscraps for fun games/challenges or giveaways etc. And at Nov.2 there is a bloghop with a huge collab to collect from the Mscraps design team. Lot's of things are planned !!
Check out these ads!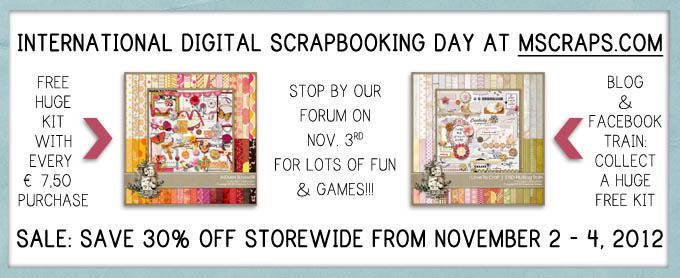 I wish you al a wonderful and fun iDSD !!
And i'll be back tomorrow with a freebie from the bloghop.
xx Anita